Using backspin unnecessarily in Golden Tee
By
Golden Tee Fan
• Category:
Backspin, roll and bite
,
Features
•

Another problem that afflicts Golden Tee beginners and some amateurs is the overuse of backspin. These guys will take away any chance they have of getting close to a back pin by landing in the middle of the green with backspin, or they will spin a shot back off the front of the green by attacking a middle flag with backspin and coming up short. In most of these situations, I've learned to avoid backspin and roll the ball right up to the flag. You just have to get over being scared of being long, and play the shot with a little less power.
With a back pin in Golden Tee, there are very few situations where you want to use backspin. Your goal should be to land the ball on the front or middle of the green and let it roll back towards the flag. Of course, with a severe downslope and/or a low-lofted club, you can get backspin to check up by the pin, but usually, you'll want to account for the slope and let the ball do the work!
With a middle pin, you can go either way, depending on the other factors (wind, slope, in-between clubs, elevation) of the shot. Still, I see backspin used almost automatically by most beginners when avoiding it would be the much better play. These situations are where developing a good "thumb shot" can do wonders for your game, since I believe it's easier to control distance/power in Golden Tee with a thumb shot. Practice landing on the front of the green with a thumb shot and watch the ball roll up by the cup!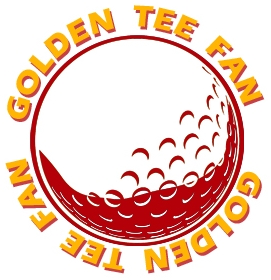 Golden Tee Fan is a Golden Tee addict from Chicago, IL, thirsty for tips and tricks!
Email this author | All posts by Golden Tee Fan