Bad situations to use backspin
By
Golden Tee Fan
• Category:
Backspin, roll and bite
•
Following are some tips on bad situations to use backspin in Golden Tee:
When the pin is at the back of the green – this means there's really no room behind the pin, so you'll probably either land it in the rough behind the green (where it won't roll back), or you'll land it by the pin, but it will roll back all the way towards the front of the green. Try to hit a shot that lands in the middle of the green and rolls forward towards the pin.
When the green slopes up from the direction of your approach – this means that if you use backspin, the ball may roll all the way back off the front of the green. Instead, try to stick the ball by the pin – the slope will keep the ball from rolling much further.
When you're hitting with the wind in your face – the wind will naturally slow the ball as it approaches the pin, so applying backspin might cause the ball to roll all the way back off the front of the green. Attack the pin and let the wind stop the ball.
When trying to land your ball on the front of an island – you don't want the ball to roll back off the front of the island into trouble! It's better to be a little long in this case.
When you're executing a punch-and-run chip shot in Golden Tee – the point of this shot is to try to roll the ball into the hole. You don't want backspin adding any more complexity to the shot – have confidence and roll it in!
When you want to shoot under a tree – backspin tends to give the shot a bit more trajectory in Golden Tee, but you want to keep it low. Try hitting a longer club with less power, and maybe even add some roll to keep the trajectory low.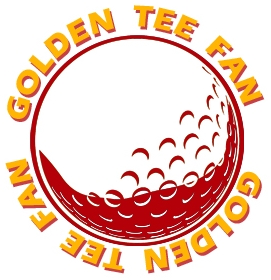 Golden Tee Fan is a Golden Tee addict from Chicago, IL, thirsty for tips and tricks!
Email this author | All posts by Golden Tee Fan