By
Golden Tee Fan
• Category:
Bayou Bay
• •
Leave a Comment (0)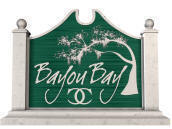 This section breaks down how to play each hole at Golden Tee's Bayou Bay, in Lafayette, Louisiana, which was voted by far the most difficult of the 2008 courses by the expert community. Hole #14 got multiple votes for being one of the hardest holes in Golden Tee Live 2008, and holes 9, 11, and 17 also got votes.
Check back here and learn even more tips and tricks, and how to play from each of the tee boxes on the course!
When you're done reading, click here to download and save a printable version of these tips that you can take to the bar while you play!
---