By
Golden Tee Fan
• Category:
Falcon Sands
• •
Leave a Comment (5)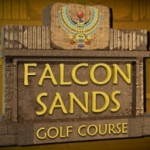 Here is a description of this new course for Golden Tee 2011: "Play golf among the ruins of ancient Egypt! The pyramids aren't only there for decoration purposes – they're part of the course itself! Besides the pyramids, Falcon Sands features monuments, statues, camels and, of course, the biggest sand trap in the history of Golden Tee!"
Here is the official preview of the Dahshur, Egypt course.
This post contains tips, tricks, and information related to the 2011 Golden Tee course Falcon Sands!  Check out the hole-by-hole breakdowns and example hole-outs as I partner up with the Golden Tee community to give you the edge you need to beat your friends!
For most players, you should be using the Hawks and Hurtles on this course.
---