By
Golden Tee Fan
• Category:
Auburn Glen
• •
Leave a Comment (3)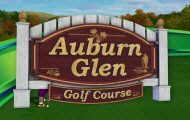 Here is a description of this new course for Golden Tee 2012: "Set deep in the Green Mountains of Granville, Vermont, the peaceful setting of Auburn Glen can lull the unwary golfer. Although traditional on the surface, this American treasure is built around significant ponds, lakes and streams, which will make you think twice about your aggressiveness. And while water is plentiful, the dense trees that surround the fairway as well as the large, impactful bunkers can play a role in determining whether you manage this 18-hole beauty or the course manages you."
Here is the official preview of the Granville, Vermont course.
This post is currently being updated with tips, tricks, and information related to the 2012 Golden Tee course Auburn Glen!  Check out the hole-by-hole breakdowns and example hole-outs as I partner up with the Golden Tee community to give you the edge you need to beat your friends!
Auburn Glen is voted by many to be the hardest course in 2012, and the second hardest by most others.
The Hawks and Hurtles are the most common selection on this course, although a few players still prefer the Flares here as well — so give them a shot and see what works best for you!
---