By
Golden Tee Fan
• Category:
Tundra Peak
• •
Leave a Comment (1)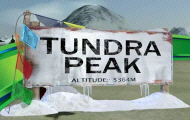 Here is a description of this new course for Golden Tee 2012: "Golden Tee at the top of the world. Literally. Mt Everest, Nepal is the home of the frigid gem that is Tundra Peak. Though mostly devoid of vegetation, the rocky cliffs, mountains, snow banks, and glaciers create a true golfing expedition new to the game. This 18-hole climb leads you through a variety of mountainside obstacles that will push your game to the very brink. While the voyage is epic, the closing hole will take your breath away if you haven't already lost it from the journey up."
Here is the official preview of the Mt Everest, Nepal course.
This is currently being updated with tips, tricks, and information related to the 2012 Golden Tee course Tundra Peak!  Check out the hole-by-hole breakdowns and example hole-outs as I partner up with the Golden Tee community to give you the edge you need to beat your friends!
Although intimidating, Tundra Peak is voted by many to be the 2nd easiest course in 2012, although some rank it tougher.  I think that just shows how difficult the courses are this year!  With experience, most players should be able to score better here than on most other courses.
Flares and Hurtles are the most common selection on this course, and you'll probably want them with many of these uphill shots!
---