By
Golden Tee Fan
• Category:
Sequoia Grove
• •
Leave a Comment (0)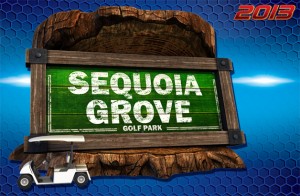 Here is a description of this new course for Golden Tee 2013: "A truly one-of-a-kind setting, Calaveras, California houses the largest trees on the planet in one compact area. These Sequoias, which can get upwards of 20 feet in diameter at their base, seemingly blend in with the clouds. These gigantic obstacles are scattered throughout Sequoia Grove, and will push your virtual golfing creativity to its max. Be prepared to go under, around and even through them if you want to score low!"
Here is the official preview of the Calaveras, California course, and this article breaks down the course even further.
This post contains tips, tricks, and information related to the 2013 Golden Tee course Sequoia Grove! Check out the hole-by-hole breakdowns and example hole-outs as I partner up with the Golden Tee community to give you the edge you need to beat your friends!
The Hawks and Hurtles remain the most popular combo on this course, and I recommend that equipment for the time being.  However, the Flares are a very close second, so if you're comfortable with that set, you can consider using it across the board.  The Ballistas are also used by some.
---