By
Golden Tee Fan
• Category:
Juniper Falls
• •
Leave a Comment (0)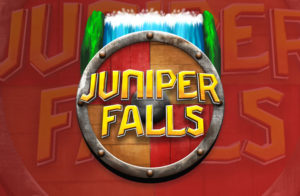 Here are some early screenshots of the course!  Here is the official preview of the new 2017 Vik, Iceland course.
"Although Iceland is not an assumed golfing hotbed, this is about to change. The village of Vik, located at the southernmost point of the country, houses one of the more ambitious virtual golfing stops over the past 30 years. While ambitious on the surface, the fit is anything but. The roaring waterfalls, free flowing streams and green grass lining the rolling hills paint a picture fit for a postcard. The Atlantic Ocean will be in play on occasion, as will the steamy hot springs that line fairways and greens."
Here is a 6-hole demo from the Golden Tee Lounge!
Here is a YouTube demo of all 18 holes from the beta version!
GT Par is consistently -28 on this course.
This post contains tips, tricks, and information related to the 2017 Golden Tee course Juniper Falls! Check out the hole-by-hole breakdowns and example hole-outs as I partner up with the Golden Tee community to give you the edge you need to beat your friends!
The most popular club/ball combo on this course will also be discussed.
---