By
Golden Tee Fan
• Category:
Pine Coast
• •
Leave a Comment (0)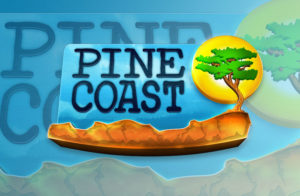 Here are some early screenshots of the course!  Here is the official preview of the new 2017 Deal Mar, California course.
"Dangling off the steep, unforgiving cliffs that guard the Pacific Ocean is Pine Coast, a place where room temperature is normal. Although Deal Mar, California is not a social beacon compared to its bustling neighbors, its seclusion and space is precisely why this course thrives. Long, open holes, notable changes in elevation and a slew of terrain fit for the area. This mix of shrubbery, ocean rock and water are regular guests. And they will push players from their first shot to their last."
Here is a 6-hole demo from the Golden Tee Lounge!
Here is a YouTube demo of all 18 holes from the beta version!
GT Par can range from -29 to -30 on this course, as hole #4 is sometimes drivable.
This post contains tips, tricks, and information related to the 2017 Golden Tee course Pine Coast! Check out the hole-by-hole breakdowns and example hole-outs as I partner up with the Golden Tee community to give you the edge you need to beat your friends!
The most popular club/ball combo on this course will also be discussed.
---