By
Golden Tee Fan
• Category:
Mayfield
• •
Leave a Comment (0)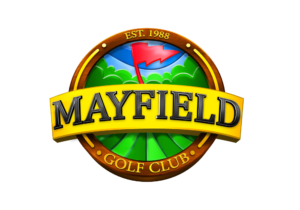 Here are some early screenshots of the course!  Here is the official preview of the new 2018 Iowa course.
"Throw the clubs in the trunk, take a right turn down the asphalt road and embrace your inner neighborhood golf hack. Such is the vibe of Mayfield Golf Club, an Iowa park district course that looks and feels like a course you've played on a Sunday afternoon. Well, yes and no. This is Golden Tee in a way you've never seen it before: through a lively neighborhood, with ground under repair and with water towers and power lines hovering in the distance. Here, shirt and shoes are most certainly optional."
Here is a 6-hole preview and discussion from the Golden Tee lounge!
GT Par is -29 on this course.
Watch Paul Luna play a demo round through all 18 holes!
This post will contain tips, tricks, and information related to the 2018 Golden Tee course Mayfield! Check out the hole-by-hole breakdowns and example hole-outs as I partner up with the Golden Tee community to give you the edge you need to beat your friends!
The most popular club/ball combo on this course will also be discussed.
---