By
Golden Tee Fan
• Category:
Beals Creek
• •
Leave a Comment (0)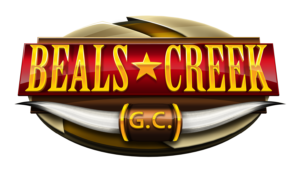 Here are some early screenshots of the course!  Here is the official preview of the new 2019 Big Spring, Texas course.
"At the crossroads of Interstate 20 and U.S. Highway 87, deep in the heart of Big Spring, Texas, is a golf course you grew up with. Jean shorts won't be welcome at Beals Creek Golf Club, but this neighborhood course, with oil money all around and massive Texas mansions off in the distance, is where deals are made and business gets done. This lush, green track is loaded with sand, and the rolling streams and creeks that tend to be where your ball wants to explore. This is golf, Texas-ified, in its purest form."
Here is a 6-hole preview and discussion from the Golden Tee lounge!
GT Par is most commonly -29 or -30 here, depending on if #1 is drivable.
This post contains tips, tricks, and information related to the 2019 Golden Tee course Beals Creek! Check out the hole-by-hole breakdowns and example hole-outs as I partner up with the Golden Tee community to give you the edge you need to beat your friends!
The GTF club set of choice is below, with the preferred ball being Streaks for advanced players and Grabbers or Razors for casual players…it's worth noting that many advanced players use Grabbers/Razors here specifically because of hole #18, which can be very hard to eagle with the limited backspin of Streaks:

Check out this podcast (itunes) (anchor) which breaks down each hole on Beals Creek offering advice to improve your game, but also know that I have listened and accounted for this advice in my hole write-ups already!
---