By
Golden Tee Fan
• Category:
Sandhill Woods
• •
Leave a Comment (0)
Here are some early screenshots of the course!  Here is the official preview of the new 2019 Pinebluff, North Carolina course.
"It'll require back roads and a map to get there—your GPS will do you no good here—but Sandhill Woods offers golfers something they treasure—spectacular, immaculate tranquility. Although the town of Pinebluff, North Carolina is only 2.4 square miles and home to a thousand or so good natured residents, this is now one of the prestigious homes in Golden Tee. The pine trees are tall, as the town's name would indicate, and the pine straw will provide an atypical surface you'll learn to hit from. And the closing hole here might just be the most fascinating, curse-word-inducing design in all of 2019."
Here is a 6-hole preview and discussion from the Golden Tee lounge!
GT Par is most commonly -29 to -31 here, with the dependent setups on #1 and #15.
This post contains tips, tricks, and information related to the 2019 Golden Tee course Sandhill Woods! Check out the hole-by-hole breakdowns and example hole-outs as I partner up with the Golden Tee community to give you the edge you need to beat your friends!
The GTF club set of choice is below, with the preferred ball being Streaks for advanced players and Grabbers or Razors for casual players…it's worth noting that the 2-iron super spinny club is specific to playing with the Streaks, so if you play another ball, you can substitute that club for a 2-hybrid: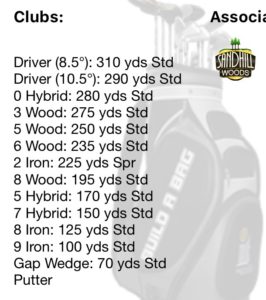 Check out this podcast (itunes) (anchor) which breaks down each hole on Sandhill Woods offering advice to improve your game, but also know that I have listened and accounted for this advice in my hole write-ups already!
---