Beat the Clock to win prize money!
By
Golden Tee Fan
• Category:
Contests and prizes
,
Features
•
I'll bet many of the amateurs have noticed that you can put up a -15 one day and crack the top 20, but if you shoot the same score during a different time of day, you might end up 30th instead. Sure, a lot of this has to do with the random talent level in that specific tournament, but the time of day plays a big role in your chances of winning back some money.
Juan Schwartz helped me gather the following information so that amateurs can see, on average, what the best times of day to play are, and what scores it typically takes to finish in the money during those times.
Of course, this can also help very good players reach the next level and possibly start netting profits on the game!
Here's the #1 rule — Don't play during lunch time unless you don't mind losing money! During lunch time or the early morning, there are only a few people playing. So, there are not enough random people playing for money to help weed out the big scores of the pros.
A much better time to play is any time after 3PM Eastern, on any day.
But, the BEST time to play is after 6PM on Friday. Everyone is out playing, and all the good players are getting drunk and not posting their best scores!
For reference below, we'll split up three time periods:
#1 is midnight – 3PM Eastern
#2 is 3PM to 6PM
#3 is 6PM to midnight (after midnight, it becomes tougher again because there are not as many people out playing anymore, but there are a lot of pros still out)
EAGLE CREST, Time #1
Average 1st place score -24.
Average 5th place score -22.5
Average 10th place -21
Ave 20th -17
Time 2: 1st -23, 5th -21, 10th -19, 20th -16
Time 3: 1st -22.5, 5th -20, 10th -17, 20th -15
BAYOU BAY
Time 1: 1st -25, 5th -22, 10th -20, 20th -17.
Time 2: 1st -24, 5th -21, 10th -18, 20th -16
Time 3: 1st -22, 5th -19, 10th -16, 20th -14
MISTY SPRINGS
Time 1: 1st -24, 5th -23, 10th -21, 20th -18
Time 2: 1st -23, 5th -22, 10th -19, 20th -17
Time 3: 1st -21.5, 5th -19, 10th -17, 20th -15
CYPRESS COVE
Time 1: 1st -26, 5th -24, 10th -23, 20th -20
Time 2: 1st -25, 5th -23.5, 10th -22, 20th -19
Time 3: 1st -24, 5th -22, 10th -19, 20th -17
SUMMIT LAKES
Time 1: 1st -24, 5th -22, 10th -20, 20th -18
Time 2: 1st -23.5, 5th -21, 10th -19, 20th -17
Time 3: 1st -23, 5th -19, 10th -17, 20th -15
Keep in mind these are all AVERAGES. If you play the cycle (Eagle through Summit, in order) by yourself and not in a 2-player or more set, you can get stuck in a "crappy cycle" — you're playing the same courses at the same times as 2-5 great players are. Getting stuck like this will make it a lot tougher to cash. Try playing the same course twice in a row, or mix up the order, if you find yourself "stuck" like this, and then continue.
Also, these averages are based on playing the same course 10 times in a row during these times. And unless there is someone "whoring" a course (playing the same course repeatedly, or more than one person doing this if you play Eagle Crest), these averages are pretty accurate for any day.
As always, Golden Tee is there for your amusement and is NOT meant to be your occupation! BUT, you can supplement your expenses on your game play by playing for prizes if you can hang with the big dogs and pick the most profitable times to cash. Heck, you may even be playing for free one day!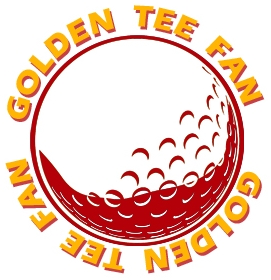 Golden Tee Fan is a Golden Tee addict from Chicago, IL, thirsty for tips and tricks!
Email this author | All posts by Golden Tee Fan