Golden Tee Complete course ratings!
By
Golden Tee Fan
• Category:
2005 - Golden Tee Fore! Complete
•
In this article, I posted in some dialogue from a great discussion on Underdog, prompted from a question I had emailed to me. A guy with a Golden Tee Complete machine was curious how all the courses stacked up against each other in difficulty, per year. Following is the discussion that entailed — enjoy!
Crawdad back 9. Toughest 9 ever!!! (at least for the 6 times I ever played that course)
I think Shadow Swamp would be in the race for hardest courses….along with Crawdad and maybe Heartland?
i played Shadow on my machine more than any other course so to me it wasnt near as hard as Crawdad. i think people saw Shadow as so hard because it was hard to shoot below a 23 or 24 when on the other courses at the time you could throw up a 29 or 28.
I think in terms of scoring Rattlesnake was always hard for me because of all the gamble holes!!! Man it was fun or it would just drive you insane. I always thought Sapphire was a pretty tough one also.
Perhaps Shadow seemed that way because par was lower….I haven't played it in awhile myself.
Rattlesnake could be a bitch if things were open and you weren't hitting them.
i tell you, we should talk about the toughest 16,17, and 18's of one course. Seems like Blue Horizon was that big left 10% with the lava all around it on 17, and 18 was the one with the sand in front of it and lava on the back????
i think i stroked out on that 17 more than any including Heather Pointe 17!!!
I remember acing #17 on HP on my birthday in 2005, playing a money game with Junior, Al, and Frosty. Thems was good times.
Crawdad is probably the greatest course ever designed…along with Rattlesnake.
It would be extremely difficult to have those courses now without the "hammer".
Heartland Creek was another one with a high level of difficulty.
I remember Heartland being easy (again, for the 6 times maybe). What's Shadow Swamp?
Ahh, Blue Horizon. I aced #18 in a qualifier for a tourney. I'll remember that one 'til I forget it.
Shadow Swamp was an addon course in the ""Extra"" DVD that came out on the 05 courses.
Good ace there Squeezie, did you herm it in from over the water or did it just fly too far, hit a rock and bounce in the hole like your normal aces?
Heartland was where i failed to learn how to hit the B3 shot with any type of consistency. Also Tommy Tuesday hole was on it right??
Heartland was not very easy Danny.
Shadow Swamp was basically Eagle Crest with some water.
It was a screaming cut 2i bs that found the .1″ of the front right green pin placement that allowed it to stay on the green, and slithered in for a nice $30.
Golden tee complete, year by year toughest courses(IMO)… And, when I mean toughest, I mean toughest to get GT par, not the best score.
Ranked from toughest to easiest…
2001:
Mystic Hills
Suerte Del Sol
Crimson Rock
Rolling Acres(9 hole course)
Royal Bannockburn(9 hole course)
2002:
Rattlesnake Ridge
Castleshire
Maple Acres
Pine Meadow
BaySide
2003:
Crawdad Swamp
Kings Canyon
Buckhorn
Kiwi Springs
Bluestone
2004:
Heartland Creek
Eagles Peak
Sword's Pointe(tie)
Tropical Falls(tie)
Blue Horizon
2005:
Balmoral Greens
Sapphire Springs
Ridgewood
Painted Gorge
Oak Hollow
2006 LIVE!
Cumberland
Heather Pointe
Kangaroo Trail
Coral Vista
Whispering Valley
2007 LIVE!:
Moose Landing
Rustic Bridge
Glacier Ranch
Indigo Mound
Palm Springs
–Sonu
'02 and '03 were the best years as far as all 5 courses. IMO
Matt, I was just going to type the same thing.
I think 2002 wins.
I would agree with that statement as well.
Although Crawdad still might be the best course ever designed.
Challenging, but not stupid.
The thing I hated about 02 courses were the green hills/ridges. Especially when you got stuck halfway up!! You had to at least 2 putt, if you got lucky…
I wish they would bring back tiered greens. They were fun.
Of course there would have to be some tweaks.
Has anyone ever played a full cycle on a Complete in one sitting?
0,
Almost. When I was down in Kansas over Thanksgiving, I had a day to play GT while my wife hung out with friends. Sadly, the two locations that said they had 2008 Lives, had nothing. So I played Complete for like 5 hours. The machine wouldn't take 5s, 10s, or 20s
. A couple of the courses would always freeze up on hole 1 (Heartland and Kings), so I didn't get to play those, but I think I played just about everything else.
Sonu's listings are pretty much spot-on I'd say. I had a tougher time with Sapphire than I did with Balmoral, but that's pretty much a crapshoot. I'd also swap Coral and the 'Roo, but that's debateable as well. I also agree with Matt and Tony, '02 and '03 were some kickass courses!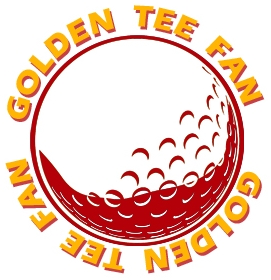 Golden Tee Fan is a Golden Tee addict from Chicago, IL, thirsty for tips and tricks!
Email this author | All posts by Golden Tee Fan