Moose Landing — Hole #10: Par 5
By
Golden Tee Fan
• Category:
Moose Landing
•
The back nine leads off with an undulating, double-dogleg par 5 that runs downhill, turns sharply left, rises and turns back right towards the green. Most often, a driver can be hit straight over the gully to the top portion of the fairway. Another method to consider is a C-3 type of shot from one turn right in the tee box. But if you determine that making the top fairway is impossible, there's another option. Straight away from the tee box, you'll see a peninsula at about 260 yards with a shelf on it to land. Use the top down pointer on the left of the screen to help determine what club to hit to land on it. From there, you should have no problem reaching the square-shaped green. But take note that that the green is severely uphill, so a little more club is needed.
Similar to the last hole, another duffer-friendly shot to consider if you can't get over the gully is to lay-up on the flat mound directly in front of the tee box (right of the fairway). It's a predictable shot every time and the mound is high enough for a clean approach to the green. You'll sacrifice some spin since it is rough but the shot is doable.
Here's a hole-out from the fairway after a nice drive.  And check out the backspin on this one!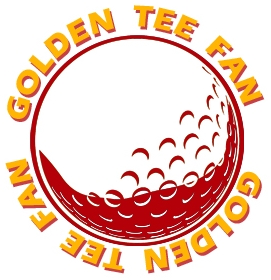 Golden Tee Fan is a Golden Tee addict from Chicago, IL, thirsty for tips and tricks!
Email this author | All posts by Golden Tee Fan