Moose Landing — Hole #11: Par 5
By
Golden Tee Fan
• Category:
Moose Landing
•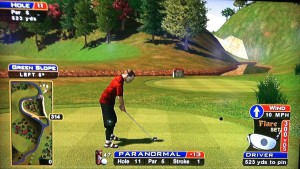 Another par 5! It's not often that Jim Z. goes back-to-back! The most common method to attack #11 is to turn right 4 or 5 times and aim for the land near the base of the mountainside. From there, you can play a 5-wood slice shot that maneuvers between the canyon walls to the green. The only other option I consider off of the tee requires a double-digit wind at about three o'clock. With this perfect scenario, you can hit an A-1 to get around the corner of the dogleg, but you must stay out of the deep rough. Even a good drive will leave you with a long way to the pin (330+ yards) but it's reachable. Stick with my first option – a mistake will usually leave you with a favorable drop. Might as well try since the percentage of making eagle from the fairway is low anyways.
I hate to be the messenger of bad duffer news, but the shortcut approach is the only way to play #11. Aim your tee shot carefully but keep in mind that the drop spot is very forgiving. Even after a water ball you can still birdie this par 5.
Here is a hole-out shortcut-style, and here is a hole-out from the fairway after laying up.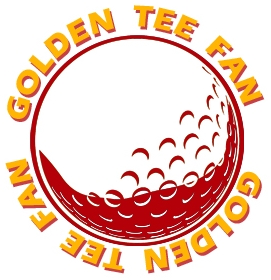 Golden Tee Fan is a Golden Tee addict from Chicago, IL, thirsty for tips and tricks!
Email this author | All posts by Golden Tee Fan