Moose Landing — Hole #14: Par 4
By
Golden Tee Fan
• Category:
Moose Landing
•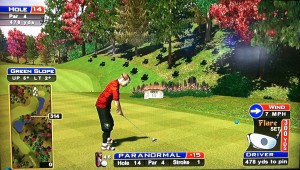 #14 is a non-drivable par 4 that doglegs sharply to the right around a body of water. The tee shot is key to success and luckily you have two options – cut the corner of the dogleg or lay back. To cut the corner, stay lined up straight and hit an A-1 with backspin. The backspin will help keep your ball from going too far into the fairway and will leave you with a clear shot to the green. To lay back, aim your tee shot straight ahead to land just beyond the corner of the dogleg, past the tree that is positioned along the right side. The fairway feeds down towards the water there, so leave some room to trickle down without getting wet. This option leaves you with a longer approach but it's still reachable.
Once you get used to #14 it's really not so bad. While I normally don't advocate unnecessary shot-shaping for duffers, you're going to need the extra zip to get off the tee and around the bend here. Listen to Sobe – execute a nice A-1 tee shot and your second shot should be a real piece of cake!
Here's an example hole-out after a nice drive.  You don't necessarily need to cut the corner — here's a driver hole-out after a straight drive.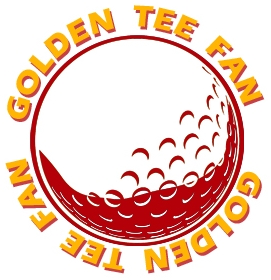 Golden Tee Fan is a Golden Tee addict from Chicago, IL, thirsty for tips and tricks!
Email this author | All posts by Golden Tee Fan