Moose Landing — Hole #16: Par 5
By
Golden Tee Fan
• Category:
Moose Landing
•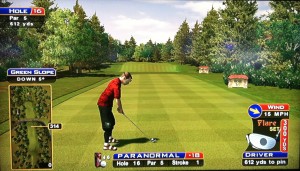 Here's a downhill 600-yard par 5 that is as straight as it gets. The key to success here is controlling the distance of your tee shot. You'll notice that the fairway is split into two by a river – you can't drive over the water, so forget it. You'll also notice that the fairway is elevated towards the end, with a flat shelf at its peak. Try to land on the shelf for the perfect approach shot, it's relatively easy to do. If you hit over the shelf, the ball can trickle down to the river, or it could stop in a precarious gulley that is tough to get out of. Simply put, don't over hit your drive! As for the approach shot from the shelf, it's straight ahead to a tiny, round green surrounded by a bunch of small water hazards. Use backspin and aim precisely.
I think the tee shot on this hole is tougher than the approach! Similar to #9, get used to hitting your drive with accuracy and confidence. Thumbs with backspin is usually the most effective for me. As for the approach, its bark is louder than its bite. Jim Z. put all those tiny water hazards in there to scare you! Just aim for the green stuff, my friend. The pain that is Moose Landing is almost complete.
Here is a driver hole-out from the first fairway.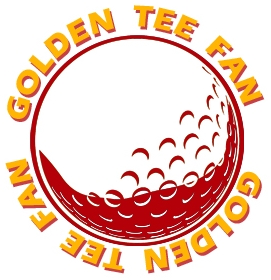 Golden Tee Fan is a Golden Tee addict from Chicago, IL, thirsty for tips and tricks!
Email this author | All posts by Golden Tee Fan