Moose Landing — Hole #2: Par 4
By
Golden Tee Fan
• Category:
Moose Landing
•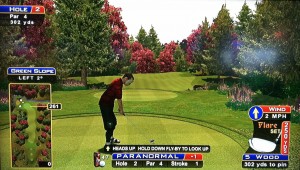 There's no "easy button" for this one! #2 is a tough, drivable par 4 that doglegs sharply to the left. The key here is to cut the corner while avoiding the tall, ball-snagging tree that resides at the apex. With most winds, stay aimed in the fairway and approach from this angle. Only when the wind is at your back is it favorable to play straight off the tee towards the green. There are bunkers all around the front of the green and water comes into play on the left side. Some key things to remember – 1) This hole tends to hang to the right, so apply a little more hook than you'd think. 2) Depending on the wind and the amount of cut applied to your tee shot, it may be wise to aim for the rough next to the green and let it bounce on. Landing directly on the green with backspin can often cause your ball to spin through the green and into the water. Practice makes perfect here…
With all of the obstacles to consider here I usually go for the green with a safe 5-wood off the tee. I like a short, high club since it can almost guarantee that I won't go long. My theory is that it's better to chip from the sand for an eagle rather than drive into the water and putt for par. Then again, I suck!
Here is a perfect 5-wood from the front box!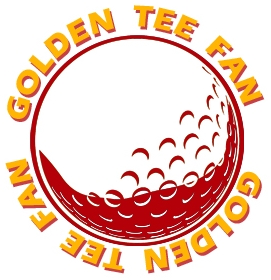 Golden Tee Fan is a Golden Tee addict from Chicago, IL, thirsty for tips and tricks!
Email this author | All posts by Golden Tee Fan