Moose Landing — Hole #9: Par 5
By
Golden Tee Fan
• Category:
Moose Landing
•
The last hole before the turn, #9 is a fun and challenging layout leaving you with several options. The first thing I ask myself is, "can I clear the water to the second fairway?" If the answer is "yes"– go for it! From the second fairway you'll be able to clear the mound to the green with a 5-wood or bounce a low iron off its top. If the answer is "no", you'll have to lie back on to the shelf of the first fairway. From here, a wood will usually clear the troublesome mound that is protecting the green. Here's a tip – if the pin is on the right side of the green, an approach shot can actually bounce between the trees that reside on top of the mound. I told you it was fun.
Sobe really asks himself very constructive questions. I usually think things like "how am I going to screw up this one?" or "how did Sobe do that?" Anyway, bravo, champ. That's good advice! But I have learned to come to grips with the "shelf shot" and once you do, it's really not so bad. Learning shot placement is a critical fundamental that many duffers lack. In this case, I suggest thumbing a driver with backspin – it'll get you close enough.
Here is a great driver over the top from the end of the first fairway.
A 9-wood makes this approach easier if you have a close tee box and position your drive correctly — here's one up and over.  Here's another great hole-out off the hill after a monster drive!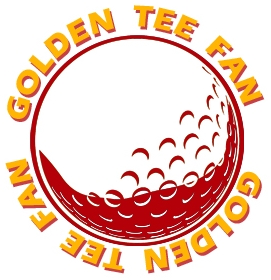 Golden Tee Fan is a Golden Tee addict from Chicago, IL, thirsty for tips and tricks!
Email this author | All posts by Golden Tee Fan