Bayou Bay — Hole #4: Par 5
By
Golden Tee Fan
• Category:
Bayou Bay
•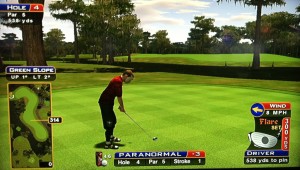 There are so many looks here it's hard to list them all, but below are several examples of how you can attack this hole for eagle.
From the far left front box, click left a ways and you can see a green landing area with a house to the left of it. An easy B1 driver to the left will get you there. If you go past and in the rough, you can make it easy to the green still. If you go in the water long, you get put on the landing pad and still make birdie.
From the left back tee box, with a tailwind you can still make the house layup spot with a hammer A1. Or you can click to the right of the fairway across the water and you'll see a tiny landing spot that will leave you a 280-320 B3 shot to the green.
From the left tees, another option is to rotate left one and hit a B1 – leaves you with a backspin driver into the green for an eagle putt.  Here's a hole-out from a lay-up island to the left.
From the middle tee box, with any setup, you can leave it pointed down the fairway and slam an A1 with topspin or backspin, depending on the wind. That will put you in the fairway with just a 6-iron to 3-iron shot into to the green. Sometimes you'll end up in the rough but you can still get there in 2. You can also try for one of the island spots on the right, but they're tough to stick and have a lot of trees to go around.
From about anywhere, you can lay up at the left edge of the main fairway and aim to bring a 5-wood into the green around the left side of the trees.
Another option from the middle tees is to hit a B.5-2.5 backspin driver off tee to curve around tree in front of you and reach landing area. Then it's almost the exact same shot into the green for an eagle putt.
From the right tee box, pick out and stick the right landing spot. From there, it's fairly easy to get home in 2.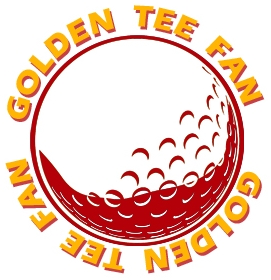 Golden Tee Fan is a Golden Tee addict from Chicago, IL, thirsty for tips and tricks!
Email this author | All posts by Golden Tee Fan