Bayou Bay — Hole #8: Par 5
By
Golden Tee Fan
• Category:
Bayou Bay
•
Another Par 5 with tons of options, but it's simplified into two main approaches.
First of all, from all the tee boxes, you should locate the tee box up to the front and right. It's about 300 yards into the green from there, and there's a tree right in the middle of your approach from here. This is the box you should try to get to every time. Why? Because sometimes you'll actually be lucky enough to get this box as your tee box, and then you'll have a shot at double eagle! Check out this super albatross around the left side!  Consistently getting practice from this tee box will help you master that approach shot.
A couple important notes on your approach from there — you can hit a 3wd or driver around the left side of the tree trunk to the green (here's an example double-eagle from the left side), or a driver if you go around the right side (there's "invisileaves" if you hit a 3wd on the right side). To be safe, hit a small B1 or B3 around the tree to avoid any leaves.
There's another layup circle to the left of the one above, just under a tree.  From here you'll have a wood into the green.  Or, check out this awesome 0-hybrid that straight skipped the water into the hole!
If it's too tough to hit this tee box from where you are, another option, as from the middle tees, is to rotate to the right and locate the end of the main fairway strip. Hit an iron out here and you'll have 3-wood to driver into the green.
There's another layup island to the left that gives you an approach shot if you can land it.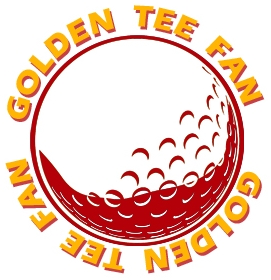 Golden Tee Fan is a Golden Tee addict from Chicago, IL, thirsty for tips and tricks!
Email this author | All posts by Golden Tee Fan