Cypress Cove — Hole #16: Par 3
By
Golden Tee Fan
• Category:
Cypress Cove
•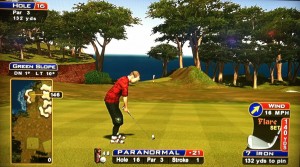 Here's a tough par 3 that can ruin your round.
This hole can set up anywhere from a sand wedge to a 3-wood depending on the tee box and wind, but it always has a hard left-sloping green towards the sand.
If you're close enough for a small iron or wedge, and the wind is blowing left too, you may need to get creative. Turn right one of the green and hit a B1-type shot with backspin. Doing this with any club longer than a 7-iron will hook the ball too much and you'll be stuck behind a huge hill and in the sand.
You can always try to take advantage of the hill by landing on it so that it rolls down onto the green (use backspin) — here's a nice example.  This was was about a yard from being on the other side of the hill but made its way back down and in!
If it sets up pretty square, play a B1 or A2 shot with backspin into the green, trying to land behind the pin, to combat the slope. If you land it correctly, it will curl back toward the pin.  Here's a pretty straight hole-out.
Be careful on a downhill putt here! I had a 12-foot down 10 putt roll over even while pulling back to A (which is supposed to prevent such roll overs)!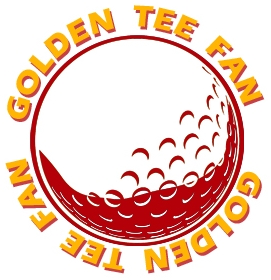 Golden Tee Fan is a Golden Tee addict from Chicago, IL, thirsty for tips and tricks!
Email this author | All posts by Golden Tee Fan