Cypress Cove — Hole #4: Par 5
By
Golden Tee Fan
• Category:
Cypress Cove
•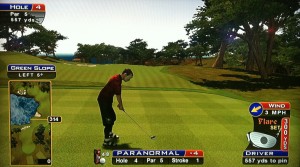 Several options here to leave you an approach shot to the green in 2.
If you're close enough to hit it down past the sand on the left and onto the lower fairway, hit it there and close to the water, as far left as possible. You'll have a 3-wood with backspin to the green.  Here's a great hole-out with a 4-wood.
If you're stuck behind the trees, you can sometimes hook a 5-wood around and over the left side of the trees.  This shot ended up well behind the sand in the lower fairway, but check out this amazing driver bounced through the sand into the hole.
If that's too difficult, lay up a 2-iron (or whatever club gets you there) on top of the hill to just before the sand on the left. From there you will be about 330 yards out and you'll have to hit a hard driver with backspin, but it's still doable.  It's tough to get it close to the sand without going in the sand, but that's what you'll need to do to be able to reach it in 2 from up here.  The advantage is that you're hitting much more level with the green.  Here's a nice hole-out from there.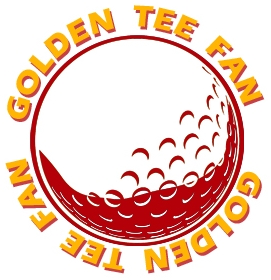 Golden Tee Fan is a Golden Tee addict from Chicago, IL, thirsty for tips and tricks!
Email this author | All posts by Golden Tee Fan