Cypress Cove — Hole #5: Par 4
By
Golden Tee Fan
• Category:
Cypress Cove
•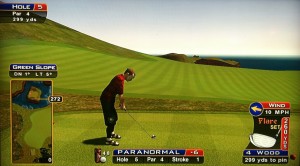 Always drivable, but difficulty depends on your setup.
For most setups, it's an easy thumb shot with a 5-wood to driver.  Here's a nice 3-wood hole-out.  Here's another 3-wood hole-out from different box.
The only time this hole is tough is when you're on the tee box behind the trees. If you are close and right, you will want to hit a B1-type drive through the middle of the V-shaped tree (sometimes you're only 280 with a wind behind you. Try the same shot, but pull your club back 75% of the way and finesse your follow-through (when not pulling back the full way, you have to put a little extra hook on it)).
From any other placement here you'll want to go around the left side of it altogether.
The stock driver misses the leaves without backspin, but you'll usually want backspin here if you know you'll miss the leaves.  Wind and pin placement determine this too — sometimes you don't want backspin or else you'll pull the drive back off the green into the water!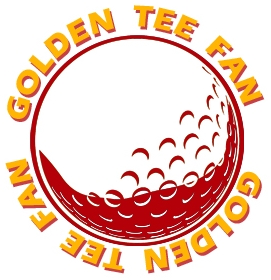 Golden Tee Fan is a Golden Tee addict from Chicago, IL, thirsty for tips and tricks!
Email this author | All posts by Golden Tee Fan