Cypress Cove — Hole #9: Par 4
By
Golden Tee Fan
• Category:
Cypress Cove
•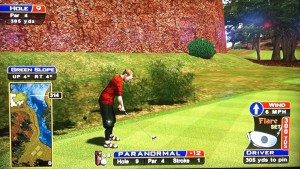 This par 4 is drivable 75% of the time, but it's very challenging.
The front left box gives you the best chance. Aim for the right side of the green and hit a C3 5-wood to 3-wood with backspin, The follow-through is the key here — make sure you hit enough "3" so you don't come slamming back into the mountain, but don't go so far out that the ball doesn't come back to the green. Practice makes perfect!
From the back right box, it's a little tougher, but you'll be hitting the same type of shot with a 3-wood. Here's a great ace using that shot.  If the wind is blowing hard to the right, you may have to lay up as described below.
Be careful with a driver — it may not have enough loft to reach the landing area unless you hit it hard.  However, this shot did just that and is a gorgeous ace to watch!  Also, make sure your shot is a "spinny" C3 — this helps ensure that the shot ends up going out to the right.  Sometimes the machine won't read the trackball right if you just pound out to 3 without spinning it backwards, and then you're slamming into the mountain.
The back left box makes this hole very tough. If you are on the very front of this box with a big right-to-left wind, you can aim for the green and get lucky with a huge C3 5-wood or 3-wood. Otherwise, aim straight down the fairway and hit a C3 driver with backspin. This will get you out far enough around the trees to leave you with a nice wood shot into the green for a chance at birdie.  Here's a driver hole-out from the fairway.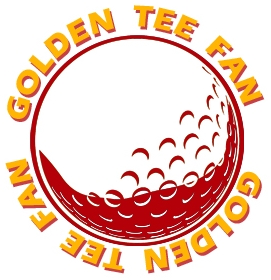 Golden Tee Fan is a Golden Tee addict from Chicago, IL, thirsty for tips and tricks!
Email this author | All posts by Golden Tee Fan