Eagle Crest — Hole #14: Par 4
By
Golden Tee Fan
• Category:
Eagle Crest
•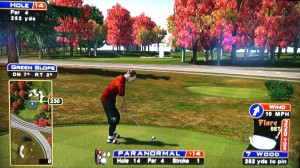 Always drivable with anywhere from a 3-iron to a 3-wood.
From the middle and back tee boxes, a 4-wood and a 5-wood will both clear the trees that overhang the right side.  Here's a nice 5-wood from the middle box.
From the front boxes, you'll need to hit a B1 shot around the trees.
If you are close enough to hit an iron, in order to stop on the green, you will need a big headwind, or if that's not the case, hit to where your first bounce is on the hill and then bounces up onto the downward sloping green (this takes a lot of practice and you need to be aware of how soon the 2- and 3-irons land to be able to perform this shot.
A 5-wood or 3-wood can usually land the green with backspin and stay on.   Here's a great 3-wood hole-out from the back box!  If you do club up, remember not to hit it too hard – I'm almost always long on this hole. But, watch out for the flower bed short of the green — if your ball stops in there, it's an unplayable lie. Most people have trouble with this hole, so if you go long and into the sand, you're still looking at birdie. If you're short and wet, par is your maiden.
Be extra careful with a low-lofted club — it will often come up short in the water if you don't aim for the back of the green!  That is, unless you can manage a SKIP, like this incredible shot!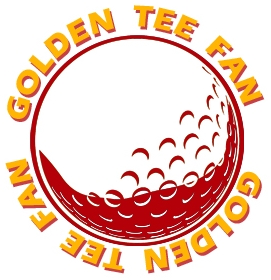 Golden Tee Fan is a Golden Tee addict from Chicago, IL, thirsty for tips and tricks!
Email this author | All posts by Golden Tee Fan