Eagle Crest — Hole #17: Par 4
By
Golden Tee Fan
• Category:
Eagle Crest
•
This is a really tough par 4 with several options. Very rarely will this hole set up to drive the green with a huge C3 and a great wind. Maybe 5% set up that way, plus you'll need an extremely lucky turbo bounce up and out of the sand guarding the green. You're better off not even trying it because if you get in the sand directly right of the green, you need a lob wedge to get out of it.
One – Rotate left one and hit an A1 with roll. This will usually get you far enough out in the fairway so you don't have to worry about the trees on the left for your second shot. But watch out, because sometimes you could be in the sand with a hill too big to clear. Hitting your tee shot to the rough or dirt road to the right of those traps will leave an iron or 5-wood from the dirt. Backspin doesn't work as good from either, so watch out.  Here's a hole-out playing a bit of cut.
Two – You can lay up short and hit a 5-wood over the gap in the trees to the green.
Three — Sometimes there's no way you can get past the trees for a clear second shot. And keeping your tee shot in the fairway isn't easy. There is a shortcut through the trees on the left. You can rotate once left and hammer a 3-wood over the first line of trees (or play a C2 5-wood over them too). In the right conditions, you'll land in a clearing with a clear straight shot to the green.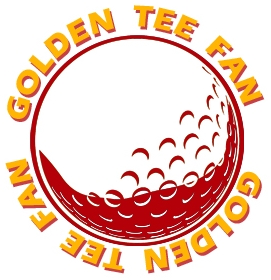 Golden Tee Fan is a Golden Tee addict from Chicago, IL, thirsty for tips and tricks!
Email this author | All posts by Golden Tee Fan