Eagle Crest — Hole #4: Par 5
By
Golden Tee Fan
• Category:
Eagle Crest
•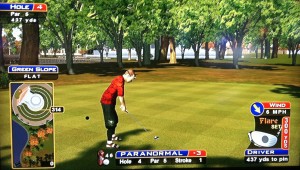 Several options here, but option one is by far the consensus way to attack this hole for eagle.
UPDATE – Learned more recently, this hole can be drivable!  Check out the second hole played in this Freaky Friday video, where a high-teed A1 310 driver went under the first set of trees and over the next.
One – Hit a C3 6-iron with topspin off the tee. Up ahead, just in the rough to the left, are two shorter trees. The one on the right is further away and your ball will clear it. The next one left of that is closer and your ball will hit it. So just make sure your C3 goes around the 2nd tree. You will end up with a straight in shot with a 5wd-driver. This one got through it all and had an open approach shot.  Most of the time you will rotate left one spot to play this C3 shot, and rarely you can rotate two spots left for this shot.
If you don't have a 6-iron, you can use a 9-wood with more of a C2-type shot.  Here's an example off the tee that left an open approach.
Two – If the wind is blowing straight ahead, land your drive in the lower-left quadrant of the fairway, just past the trees on the left. Then hit a A1 driver with backspin to curve around the monument onto the green (the wind will help)! Don't miss right – the worst place to end up is up against a wall where you have to punch out for your 3rd shot.
Three – If the wind is blowing at you, blast a C2-type drive with roll to the upper-left quadrant of the fairway. Then hit a C3 driver or 3-wood with backspin (the wind will help) onto the green to putt for eagle!
Four – Blast a driver straight ahead, landing in the left half of the big square fairway. Bring your approach shot straight through a hole in the columns in the Jefferson Memorial with a backspin driver, and putt for eagle — here's an example hole-out with a nice deflection!
Five – Rotate way left and hit an A1 low-loft driver through the trees and over the lake to set up your approach shot.
Six – Hit a C3 1-iron with roll through the trees that should end up by a spaceship! From there, you can hit a 3-wood or 4-wood into the green for an eagle try.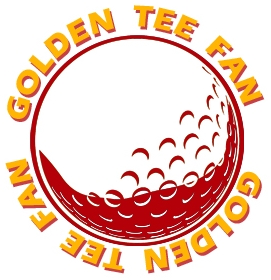 Golden Tee Fan is a Golden Tee addict from Chicago, IL, thirsty for tips and tricks!
Email this author | All posts by Golden Tee Fan