Misty Springs — Hole #11: Par 4
By
Golden Tee Fan
• Category:
Misty Springs
•
This is a very tough, long par 4.
From the 3 left boxes, the tee shot is easier – just hit an A1 around the trees and back down the fairway, leaving an easy iron to 3-wood approach shot.  Here's a short hole-out available from a generous tee box.
If you're on one of the right 2 boxes, here comes trouble. Aim one rotation left of the trees you have to get around, and hit an A1.5 or A2 2-iron to 3-iron with backspin. If you barely clip the leaves on the last tree you have to get around, you've achieved the best shot possible. You will end up on the right side of the fairway with a straight driver to 3-wood approach shot.  If the wind is strong in your face, consider a 5-wood around the trees with backspin, because the wind will help push it to the right side where you need to be.
If you miss all the trees but are still in the fairway, you're still in decent shape – you'll just have to hit a B3 3-wood to driver around the trees on the left. Watch out for leaves up top. Consider using roll if you might come up short with a back pin – roll will help the ball climb the upslope on the green.
If your tee shot doesn't get around these trees and ends up in the forest, it sucks in there (although you may run into Bigfoot and all the other animals in there, which is fun unless they are in your way)! Just get out safely without hitting another tree.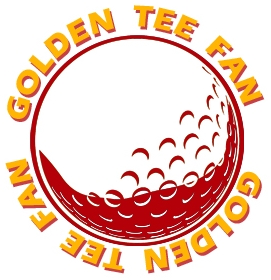 Golden Tee Fan is a Golden Tee addict from Chicago, IL, thirsty for tips and tricks!
Email this author | All posts by Golden Tee Fan