Misty Springs — Hole #16: Par 5
By
Golden Tee Fan
• Category:
Misty Springs
•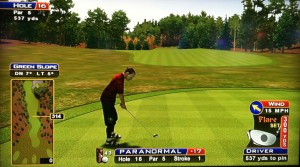 This is the second toughest hole ever, and the toughest par 5 ever. There are 2 ways to get eagle here.
If the wind somewhere between barely going left to all the way right, hit far down the left side of the fairway (C3 may be good for added distance). Try to leave yourself with a 5-wood approach shot. In no way is this an easy 2nd shot, but you need to then hit a B1 backspin around the trees by the green, just barely missing left of the left-most tree, to stick the green. Hitting water or trees on this shot is a good possibility, but keep practicing!  Here's a cut shot that used the hill to get the job done!
If the wind is going hard left, get as far to the right side of the fairway as possible. Your second shot will be a 5-iron to 5-wood through the larger gap in the trees on the right. I don't know how this got through, but there are holes in the trees if you get lucky! If you hit a tree, 99% of the time you will stay on top of the hill, where you are still only a chip shot away. Then make sure you rotate 2 or 3 times to the right to adjust for the wind if hitting a lob wedge or sand wedge down to the green.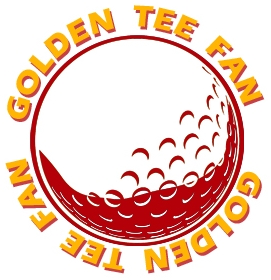 Golden Tee Fan is a Golden Tee addict from Chicago, IL, thirsty for tips and tricks!
Email this author | All posts by Golden Tee Fan