Misty Springs — Hole #17: Par 3
By
Golden Tee Fan
• Category:
Misty Springs
•
This hole can set up VERY tough! You can have anywhere between an 80-yard shot and a 250-yard shot. The green slopes big time left towards the water, and the wind is usually wicked.
If you're really close with a sick crosswind, try Sobe's "arcade shot". This is when you go left of the hole (if the wind is going right) instead of looking at the hole, then hit a B3 "schwerve". For example, let's say you're 100yds out, with a down 8 green and a wind 16mph to the right. Click one to the left of the green, hit a smooth B3 9-iron with backspin. It will start hooking to the left to combat the wind, but the loftiness of the club will let the wind take it back right to the green. This is one of the toughest shots in the game to master. If you can chip a 5-iron or 6-iron 80 yards, this might be a better option for you.
If you're across the water, it's normally a 5-wood shot. But if the wind is behind you and you know your 5-wood is too much club, hit a 2-iron backspin into the hill on the right of the green. From the end of the green to about 20′ right, your ball will bounce off and onto the green.  Here's an example hole-out with a high-lofted wood.
Remember, if you get wet with any tee shot here, you will be shooting from the hill on top of the green, which can be scary. But, you can always putt from here to save par.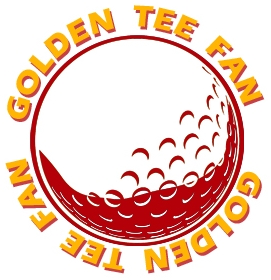 Golden Tee Fan is a Golden Tee addict from Chicago, IL, thirsty for tips and tricks!
Email this author | All posts by Golden Tee Fan