Misty Springs — Hole #18: Par 4
By
Golden Tee Fan
• Category:
Misty Springs
•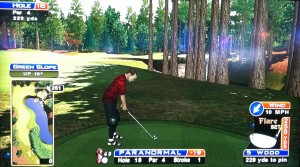 An "always" drivable par 4. If this hole looks like death, that's because it just killed the foursome in front of you. This is THE toughest hole in all of Golden Tee Golf.
From the front box closest to the trees, a 5-wood will get under the trees if you're close. If you're on the back half of this box, you have to go around the leaves.  Here's an awesome 5-wood cut shot.
The box behind or to the left of that gives you a nice wood shot to the green.  Here's a B1 3-wood that was intercepted on its way back to the water :).  Here's an incredible 3-wood bank shot off the video board!
From all other boxes is where the shot multiplies exponentially in toughness. So from any other box, you will have to hit a "lucky" shot through the trees, missing all the trunks, leaves, water, and sand!
Laying up on this hole is sometimes an option, but be careful where you lay up. You might give yourself a worse shot to try to stick! If you lay up far down the fairway, make sure the wind is blowing left where you end up, because you will have a crazy sloping right green. A lot of putts and chips end up in the water in front of the green because of the severe slope.
One more note – some guys are ending up with stroke limit on this hole because of a rock in front of the green. They will have a chip roll off the front of the green towards the water, but instead of getting wet, it gets lodged under a rock and there's no escape! As if this hole needed any more obstacles…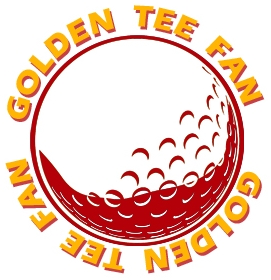 Golden Tee Fan is a Golden Tee addict from Chicago, IL, thirsty for tips and tricks!
Email this author | All posts by Golden Tee Fan