Misty Springs — Hole #7: Par 5
By
Golden Tee Fan
• Category:
Misty Springs
•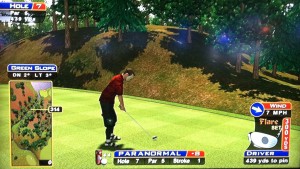 Two shortcut options here, and both will challenge you.
From some tee boxes, you can turn left a few times and hit a 5-wood or 3-wood over the trees and onto the green landing zone in the forest (this is the one with the outhouse). This patch leaves a nice path through gaps in the trees to the green. If you hit past this, you're still ok, but watch out for the bear! Don't be short, or you won't get there in 2. More importantly, if you're on the brown crap, watch out when trying to curve it a little. It will destroy your distance but seemingly hook more.
If you can't make that spot, or if you don't like it, turn left even more and you'll notice a green patch next to the river. Hit a 2-iron or driver down there so you don't clip any leaves, and you'll leave yourself with a driver or 3-wood with backspin to the green. This approach shot is long and narrow and can be difficult, especially with a wind blowing left.
There are also setups where you can blast a driver straight down the fairway far enough to allow you to curve the ball into the green in 2.
Finally, ALWAYS notice where the pin is here. If it's close to the edge, don't miss your putt or you can go into the water!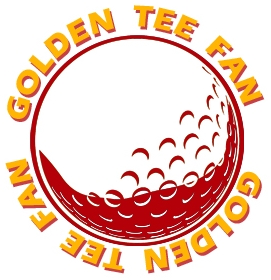 Golden Tee Fan is a Golden Tee addict from Chicago, IL, thirsty for tips and tricks!
Email this author | All posts by Golden Tee Fan