Summit Lakes — Hole #16: Par 5
By
Golden Tee Fan
• Category:
Summit Lakes
•
Your first decision will be whether or not you can reach the second fairway here, which may require a monster C3 at times (and other times it's easy). If you get across, you have a good shot at eagle.
If you're on the back of the box and into a wind, don't try it unless there's ice. If there is ice, just blast away, because you can probably get there in two from the ice.
Remember that if you can almost get to the second fairway, you can probably skip it across using an A1 shot with roll!  Here's a hole-out after a long drive.
If you do have to lay up, check if facing the green shows any wind to the left. If so, lay up on the first fairway toward the left side, close to the water. From here, it's 360-400 to the green, but you can get there in 2 with a big C3 topspin and a couple lucky bounces.
Also from the back box, if the wind is going to the right at all, click one left of the green and notice the green landing zone in between the mountains. If you stick this, you will have a big A1 5-wood to the green (don't go this way if there's water, only if there's ice. That way, you'll still get birdie if you mess up and land on the lake). Additionally, while trying to stick a landing spot with a big slope, don't use backspin or topspin, as the ball likes to keep bouncing all the way off and into the water.
Finally, you can land up top on the hill to the left, but on your approach shot, watch out for the moose!
In some cases, you can actually get to the top of the second hill!  Here's a hole-out from there.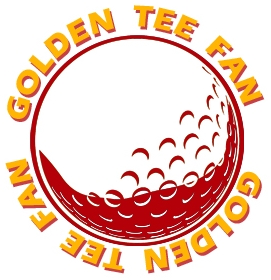 Golden Tee Fan is a Golden Tee addict from Chicago, IL, thirsty for tips and tricks!
Email this author | All posts by Golden Tee Fan