Toughest 2008 Golden Tee Holes
By
Golden Tee Fan
• Category:
2007 - Golden Tee LIVE 2008
•
Borrowing from a blog on underdogsports, I've compiled votes for the toughest holes on 2008 Golden Tee Live. In most cases, votes went to holes where it's toughest to make GT Par. There weren't an overwhelming number of votes in that blog, but enough to be able to point out several of the potential stumbling points during your round. Here are the results!
#1 Toughest Hole — #18 at Misty Springs. This hole got votes from 6 different people, twice what any other hole got.
Next 2 Toughest Holes — #17 at Summit Lakes and #16 at Misty Springs. These holes got votes from 3 different people.
Other holes receiving votes from multiple people — #14 at Bayou Bay, #17 at Eagle Crest, #3 at Cypress Cove, and #11 at Misty Springs.
The following holes also received votes as being among the toughest in the game — #s 9, 11, and 17 at Bayou Bay, #s 10 and 13 at Summit Lakes, and #9 at Cypress Cove.
Feel free to add comments below to vote for any of these or any other holes on Golden Tee 2008 that you consistently struggle with!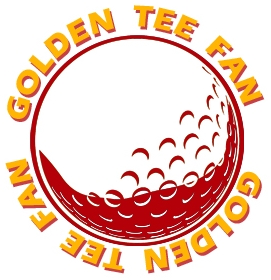 Golden Tee Fan is a Golden Tee addict from Chicago, IL, thirsty for tips and tricks!
Email this author | All posts by Golden Tee Fan