Black Hills — Hole #13: Par 5
By
Golden Tee Fan
• Category:
Black Hills
•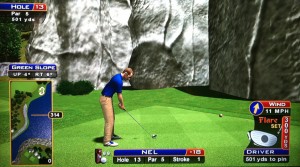 The safe play is around the trees and hill, but you'll almost certainly need 3 shots into the green this way, and what fun is that anyway?
I've found a couple options for getting there in two, and they require some luck.  If you have a closer tee box, aim at the elevated hill across the river, and hit your drive into the back-right portion of this hill.  Sure, it's littered with trees, but if you can get back far enough on the hill, you'll have a shot into the green in two!
From the middle or back tees, there's another option.  Pan right and notice the fattest section of grass separating the tall cliff from the water.  That's where you want to be!  But, you don't want to have to shoot directly for that…there's another way that can work out for you.  Aim your drive at the right side of the hill, above this landing area.  If you pull it off, your drive will bounce on the hill a couple times and then start plunging down the cliff.  Since it's straight down, though, your ball will drop right onto this landing area, and then you have a great look into this green in two! Even if you get unlucky and get wet, you'll get a good drop that still allows a shot into the green for a birdie putt.
If you get a good clean look straight at this grassy landing area, then you can aim right for it instead of depending on the roll down the hill!
Your work isn't done — it's another oddly shaped green protected by sand, so you'll have to find a way to stick the green AND make sure you have a clear putt at the flag!
Play around with these options and soon you'll get more comfortable hitting to areas that give you the best chance to earn an approach shot within distance of the green!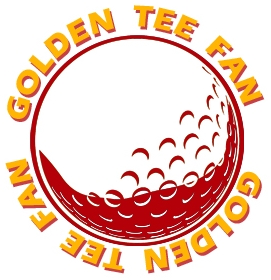 Golden Tee Fan is a Golden Tee addict from Chicago, IL, thirsty for tips and tricks!
Email this author | All posts by Golden Tee Fan