Black Hills — Hole #15: Par 4
By
Golden Tee Fan
• Category:
Black Hills
•
Welcome to The Falls!  I almost wish this hole hadn't won the "Design a Hole" contest, because although it looks really cool, it's really tough!  I'm still finding myself in the waterfall way too often, and that water is lethal — it sucks your ball right down into the river, and you get a penalty.
If you're tucked into the back right box, you'll have a hell of a time curving a shot into the green without hitting the waterfall — AND, if you hit the rock on the left too soon, you'll shoot straight backwards.
From other boxes, it's a bit easier, but it still won't let you take aim at the flag.  Often times, if you play too safe and hit the green on the other side of the pin, you'll have a 180+ foot putt that you can't make anyway.
The ideal shot curves around the water and can even bounce off the back wall on its way back to the flag for an eagle putt. Take note of the flag and try to bounce off the wall towards the pin if that's the best way to get close!
Keep in mind that the waterfall falls from left to right…so, you have to stay low and left if going around the left side, and high and right if going around the right side.  But above all else, play extra wide to miss the waterfall!  If you do, you should have birdie at worst.
EDIT — Thanks to Putz, who has revealed after several months of secrecy that you can sometimes blast a 3-wood straight through the water and still carry the green!  You need at least a 9mph tailwind to accomplish this feat.  If you're blessed with this wind, hammer a B2 3-wood with roll right through the water!  The extra loft of the 3-wood coupled with the carry of the tailwind allows the ball to carry onto the rough, sometimes the green, where roll can add some extra yards too!  I've gotten word that a 5-wood can work too, with preferably more tailwind.  It also helps to be using the Freaks, which add distance.  Check out the hole-out below!
FAIRLY STRAIGHT HOLE-OUT
AROUND TO THE RIGHT
AROUND TO THE LEFT
THE SICKEST OF THEM ALL!
STRAIGHT THROUGH THE WATER!
CHECK OUT THE VIEW FROM UP HERE!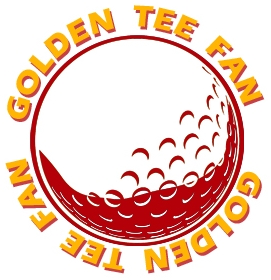 Golden Tee Fan is a Golden Tee addict from Chicago, IL, thirsty for tips and tricks!
Email this author | All posts by Golden Tee Fan