Black Hills — Hole #18: Par 4
By
Golden Tee Fan
• Category:
Black Hills
•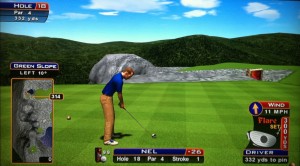 One of the coolest hole ever designed, and just about as tough!  You'll learn pretty quickly that you can't miss left, or you're falling down the faces of Mt. Rushmore!  The tendency will be to aim long and right, but Golden Tee conveniently put a pond there too! Actually, with a bit of practice, this tee shot is not too bad and can offer you an eagle to close out with.  You'll probably be hitting a driver, which will actually be a relief from the last hole since the wind won't blow it as much.  Just aim for the back right side of the green with backspin.  If you can land here, your ball will settle nicely into the middle of the green.  If you don't like pulling back on your shots, this hole's great for you also!  You're pretty much just shooting forward opposite the wind to try to hit the green!
One more note — if you find water and are place on the green patch to the right of the green, opposite the rock, take note of where you are, because sometimes you can PUTT across onto the green!  It seems impossible, but the putt can actually "skip" across the rocks, cutting the corner even though it seems it'd fall down the rock and never make it to the green!  Try it and you'll learn to save a stroke or two over a much more risky chip!
A SLIDER ORIGINAL
USING THE WALL
HOW DID HE CONTROL THOSE HOPS?
MORE ROCK-PLAY
HELPS TO GET LUCKY!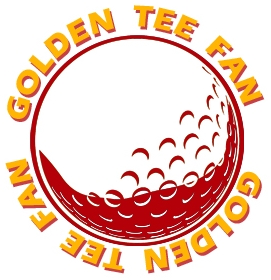 Golden Tee Fan is a Golden Tee addict from Chicago, IL, thirsty for tips and tricks!
Email this author | All posts by Golden Tee Fan