Black Hills — Hole #4: Par 5
By
Golden Tee Fan
• Category:
Black Hills
•
Here is your official introduction to the challenges of Black Hills!  So, you want to get there in two?  More than likely, you'll have to take your chances on one of many "Easter Islands" featured within this course.  Line yourself up with the pin and take note of where all the huge stones are on the little peninsula landing area.  Now imagine playing anywhere from a pretty straight shot up to a big C3 into this area.  Tough, right?  Well, it's time to get practice in!  If you can somehow land here and leave yourself an opening to the green, you've got a great chance at eagle.
Another spot you can sometimes take aim at is between the two pillars on the far right. With correct distance and accuracy, you can gently bounce off the right side of the rock on the left, leaving you in between those two rocks with an open look at the green.
If you're not feeling so brave, you can take it along the fairway to the right, but you're all but guaranteed to have to take 3 shots to get to the green this way.  And, your 3rd (approach) shot this way can still be really hard, because stones guard the right portion of the green!  Instead, consider laying your second shot short in the jutting peninsula, where you can gain a straight shot into the green.
There are also occasions where you may be able to skip or carry your drive out to cut the corner of the main fairway.  If you can pull this off, you'll have a decent shot into the green in two this way also!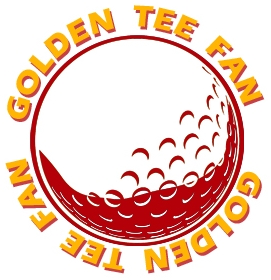 Golden Tee Fan is a Golden Tee addict from Chicago, IL, thirsty for tips and tricks!
Email this author | All posts by Golden Tee Fan