Black Hills — Hole #7: Par 5
By
Golden Tee Fan
• Category:
Black Hills
•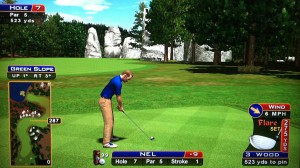 Your drive is crucial here, and it will set up the difficulty of your approach shot and your chance at eagle.  First, notice where the pin stands in relation to the green.  If it's in the middle, you'll want your drive to be straight down the middle of the fairway.  If the pin is on the right, put your drive a bit more left, and vice versa.  And don't crush it…you'll want some distance between you and the stones so you can get some elevation and have more flexibility with your approach.
Now, after your drive, you should see a gap in the stones on your way to the green.  If you lucked out and are lined up, you can just hit a straight shot through the gap and down to the green, but more than often you'll be playing a small cut shot through the gap to compensate for the wind anyway.  Sometimes you'll even be able to carry a high-lofted wood right over the stones, if you have a tailwind and are back far enough!
Another option is sometimes playing a big A1 off the tee — there are situations where you can get the ball far enough down the fairway to the right to have an easier approach into the green than if you laid up!
I can't say it enough, and it's true more than ever with this hole — the wind will affect your approach shot a LOT on the way down.  I'd only use backspin if you have a tailwind, because otherwise, backspin can suck your ball right off the green into the water!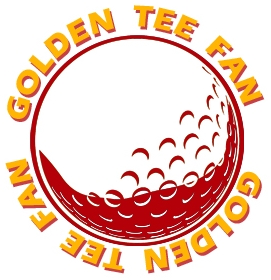 Golden Tee Fan is a Golden Tee addict from Chicago, IL, thirsty for tips and tricks!
Email this author | All posts by Golden Tee Fan