Bonnie Moor — Hole #15: Par 4
By
Golden Tee Fan
• Category:
Bonnie Moor
•
You can have a couple different tee boxes here, and you should think about your tee shot before just punching it out there.  Because the approach shot here is so tough (you have to shoot uphill and over tall grass into this green), you're going to want as much loft as you can use.  In many cases, that means leaving a 5-wood from around 250 yards into the green, so figure out where you should place your drive to leave you 250 into the green.
If you have the tee box where you're lined up with the green, you have another option to take the tall grass out of play.  You'll notice that the grass guards the front-right part of the green, so if you can get your tee shot far enough left, you can take the tall grass out of play!  This may even mean driving up into the rough all the way through the fairway, because that will be an easier shot into the green than having to worry about more carry.
If you have the other tee box where the green is on the right, then you probably can't drive it far enough to take the tall grass out of play, so lay back for the 5-wood especially if there's a front pin!  If the pin is in back, you'll probably be fine carrying a less-lofted club up (down to a 4-iron) into the green.
With a front pin, always err long!  It's very easy to come up short and then be chipping out of tall grass, where it's much harder to predict distance!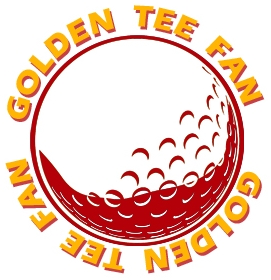 Golden Tee Fan is a Golden Tee addict from Chicago, IL, thirsty for tips and tricks!
Email this author | All posts by Golden Tee Fan