Bonnie Moor — Hole #18: Par 4
By
Golden Tee Fan
• Category:
Bonnie Moor
•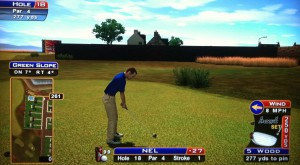 Bonnie Moor finishes with a really fun and creative par 4 that's always drivable but sometimes really tough!  The ideal setup is one where you can float a 5-wood or 3-wood straight towards the green, over the final concrete wall, and backspin to hold the green.  You don't always have the privilege of this shot though.
Often times you'll have to take the alternate route around the final wall, hooking some type of A1 shot with backspin around the wall into the green.  There are some strategically-placed bunkers that can grab this shot on its way though!  Be sure to try this shot if you don't think you can clear the wall straight over, because if you get stuck in the backyard, it's OB and you have to tee off again!
There are some lucky breaks you can get though if you end up short.  First, the umbrella can offer a friendly bounce over the wall!  Also, if you catch the concrete in front of the final wall, you can bounce over and onto the green this way!  You won't "plan" to do this, but it's a break that can come your way occasionally!
If you play it safe, you should at worst have an eagle chip that you can get close enough to tap in for birdie!  I have had a down 6 degrees putt roll over, so be gentle again on downhill putts here!
VERY NICE HOLE-OUT
A HIGHLY-SKILLED 4-IRON!
OFF THE UMBRELLA, OFF THE WALL, OFF THE OTHER WALL, NOTHING BUT NET!
ANOTHER AMAZING UMBRELLA SHOT!
SLAM DUNK!
NICE BOUNCE!
ANOTHER FRIENDLY BOUNCE!
THIS ONE'S WET FOR SURE…NOPE!
WHY NOT BANK OFF THE ROOF!
RIDING THE RAIL — UNBELIEVABLE
ANOTHER WAY TO BOUNCE OVER!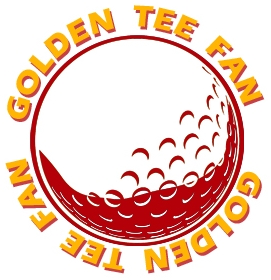 Golden Tee Fan is a Golden Tee addict from Chicago, IL, thirsty for tips and tricks!
Email this author | All posts by Golden Tee Fan