Bonnie Moor — Hole #4: Par 5
By
Golden Tee Fan
• Category:
Bonnie Moor
•
The tee shot here is all about distance control, and you'll almost always be using a 3-wood.  Aim for the little gap between the right-most bunkers — you'll want to stick your tee shot just over the tall grass and just short of the bunker.  The key is to carry the tall grass but use backspin to stick the ball before it carries all the way to one of those bunkers.
If you're too short, you'll be in the tall grass, and that's trouble — you'll have to guess the distance out of here and try to stick a spot somewhere between sand traps.  If you're short but in the rough just past the tall grass, that's okay — you can still get there in two!  If you hit it too far, chances are good that the sloping fairway will carry the ball into a bunker, and you'll have to pick a spot and chip out.
The tee shot is the key — if you can land safely in the fairway or in the rough just short of it, you'll have a pretty easy approach shot for an eagle putt!  Hit the tee shot just slightly harder than you think you need to, since it has to carry a bit uphill.
Again, if you have to lay up somewhere between bunkers, be very careful, because the fairway is always sloping down towards these traps!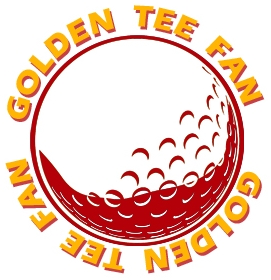 Golden Tee Fan is a Golden Tee addict from Chicago, IL, thirsty for tips and tricks!
Email this author | All posts by Golden Tee Fan