Early reviews of Golden Tee 2009
By
Golden Tee Fan
• Category:
2008 - Golden Tee LIVE 2009
•
Some guys in the Chicago area have spun some rounds on the 2009 courses already, and here's what they are saying.
I'm not sure how long it will be until we have 2009 in my area, but I'll fill up the site with comments and reviews as I see them and when I eventually get to play the new courses!  Following are more comments from players thus far:
Jeff S — Overall, the 2009 layout has some incredible courses that will no doubt be challenging for many people. If you don't know how to properly curve a shot…..good luck….because you're going to have to learn…..well!
I see myself using the "new woods" on every course right now…
CTTP (from AMJ):
I've never doubted that this would be really fun…. My question was whether people would turn a consistent profit playing. Well… one guy has already (Donahue). We played 4 times. I got a hole in one in our last round and nobody else got one. I looked at the leaderboards when I got home last night:
Round 1: 4.49 ft – 8th out of 48, 3 people with Aces (Donahue actually had 2
)
Round 2: 3.84 ft – 3rd out of 41, 2 people with Aces – This setup was BRUTAL. I think there were only 2 par 3s, and some of the par 4s were BASTARDS.
Round 3: 8.78 ft – 16th out of 45, 2 people with Aces (one was Donahue)
Round 4: Ace – t1st out of 26, 3 people with Aces
Overall, I think there will be fewer aces than I predicted, but that's because I underestimated the number of par 4 (hard ones) and the difficulty of some of the par 3s. I've never been much of a "go after the ace" guy, as evidenced by my severe lack of hole in ones. I think there will be guys (Donahue I guess) that can do alright on CTTP….. but it al depends on how many randoms start playing CTTP.
AMJ — Nice courses. I heard someone mention learning cut shots. I don't think there are too many more cut shots needed to get at greens, but I think there are a lot more cut shots needed to control the ball when it gets to the green. I was amazed at some of the slope on these greens. There was a Hole #13 with a down 12 green. The last par 3s on each course all had brutal slopes, that could really test distance control and cut shots. The greens, overall, seem like they are much smaller than previous releases and some of the funny shaped greens are just that…. Funny.
The NEW WOODS were fun, but I'm not seeing much use for them other than probably Blackwood. I think I'll be working with the Low Lofts (and D2) on the rest of the courses.
Slider045 — I would guess old long dogs on Savanah, maybe 0-birds on the farm to get through the covered bridge, big bertha on the hills, and I like old birds on the last two, but at this point, and since I suck, hard to tell. I tried old birds on the farm tonight and have NO idea how to get through that covered bridge. But otherwise I like the old birds for the most part on the other 3.
MREstepp — Plain and simple…They are awesome.
By far the hardest courses ever designed. Much more like 2007.
If you don't know how to cut the ball…you will be screwed.
If you can't control distance…you will be screwed.
Having a course that sets up for -30 or even -31 is great to see again.
Black Hills owns me after 2 games.
The amusement park course is sneaky hard.
The animation is beautiful.
The CTTP thing can set up brutal. There will be plenty of those won without an ace.
I would also like to add that the line is different this year…at least to me. Visually, it looks like everything is lined up to the right of the pin, when in reality it is dead on.
ToddL — Yes, the line is at the far left end of the cursor, whereas before it was 1/8″ in from the left edge of the cursor. I think that screwed me up a few times.
H0TR0D13 — I think Sonny Wood is the funnest to play. Follwed closely by the farm course. 18 on the farm course is going to cause some problems. I stroked out on 18 on Black Hills. I thought the "Falls" hole was pretty cool. i did however have a little problem with it. I had the tee box all the way to the right. I didnt have a direct line to the green. Wind was left to right at 14. I had to hit a 5w around the hill and keep it left of the water. Success. That was the only way I saw to get there in one with that set up. Then I had a 243 foot right 7 putt to the hole. The I had a 124 foot right 7 to the hole. Finally made my third for a par. I would have been better off going around. That fuggin sucks.
I think Bonnie Moor is going to quickly turn into Cypress during the qualifier. It doesnt look like there is that much trouble on that course. Overall I really like them. Some of those greens are freakin rough! Should make for some interesting match play.
ETA: I also think its cool that the national leaderboard is back.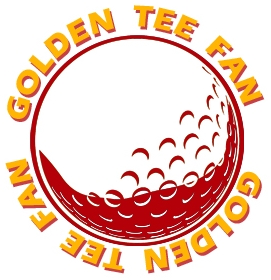 Golden Tee Fan is a Golden Tee addict from Chicago, IL, thirsty for tips and tricks!
Email this author | All posts by Golden Tee Fan