Early reviews for Golden Tee 2009's Grand Savannah
By
Golden Tee Fan
• Category:
Grand Savannah
•
Here's what the players are saying early on about Golden Tee's new 2009 course Grand Savannah!
AMJ — GT Par is -26.
Jeff S — MUD, MUD, MUD!! The ball does not travel well out of the mud…enough said.
AMJ — Played the new woods (310,3W,5W,7W,9W) the first round and old school low loft the second round. I think I'll stick with the low lofts for now. Not many obstacles you need to go over and not enough elevation change to justify the new woods. Like Whodat said, it's tough to tell what is water and what is land on a few holes. The front is fairly plain, and if I remember right, the back has some brutal par 5s. Looking at my two rounds, it's at least -25 GT par (14 was an eagle hole for sure), but it's probably -26 and maybe -27.
kevinb77 — not a bad course at all… just dont like a nearly 800 yard hole…
bpharri1 — i was doing ok thru 6 (pretty easy first few holes), then missed like a 12 yard chip (that i would've made on 2008, but for some reason that same chip on 2009 went about 54% as far)…and then another hole apparently plays about 1 club short (like a few of those on 2008–you know who you are!), i miss a putt, etc….. then i par everything, it seems, but then i still think i can shoot a 20 on my first round, which was my goal (that i only acheived tonight on bonnie moor, which is cake) and then…..
……17——–ouch!!!
basically impossible.
there was like a 16mph wind going at about 4:39 and the pin was on the left of the green that is about 25 feet deep, with water short, and junk everywhere else. Oh yeah, and it's up 10. up 10 and 2 right or something. the distance was the club right between a 9i and pw (a 10i, i'll call it?). i attempt to hit-cut the ball with a 9i into the tree that is just left of the green so i'd drop down right next to and maybe on the green (the only shot i could really think of). it goes through the leaves, and ends up about 20 yards long in the shit. oh, ok, not bad, i'll just chip it on…NOPE!! there is a big speedbump right before the green, that is down 10 from me now, and again, the green is like 20-25 feet deep! I lw bs it up, it hits the very front edge of the green, tries to check, doesn't, and gets wet–and it would've been wet if the green was 40 yards deep. drops me in the same place. i then use sw bs it and chip it off the top of the upslope of the speedbump, takes a few bounces on the speedbump top and downslope, tries to check up on the green for like 20 feet, doesn't, and then again is wet. they drop me in a really tough place with a severe breaking chip and of course i miss.
just ridiculous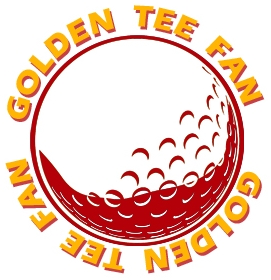 Golden Tee Fan is a Golden Tee addict from Chicago, IL, thirsty for tips and tricks!
Email this author | All posts by Golden Tee Fan