Grand Savannah — Hole #12: Par 5
By
Golden Tee Fan
• Category:
Grand Savannah
•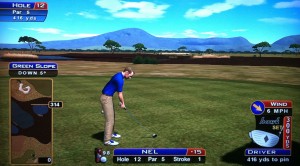 Your first step here is to check the pin placement and wind, because this should determine where you put your drive.
With a front tee box and a wind blowing towards the green, you actually have a chance to drive this green!  Play a big C3 with roll and you might actually get it there.  At worst, you should clear the mud and have a chip and a putt for eagle.
That setup is rare, so there are two equally good options left for you.  One involves rotating left and hitting a driver or 3-wood to the grassy landing area out there.  Try to place your drive as close to the right/front of that patch as you can (closest to the green).  Also take note of the pin and wind, because it's a long patch of grassy stuff and you should position yourself as best you can for your approach.  You still might have to bounce through sand and rough on the way to the pin, so this approach is sometimes challenging.
The other option, sometimes overlooked since you're usually looking for a shortcut on a par 5, is to play the fairway!  Straight ahead, the fairway juts towards the green, and the best layup spot is as close to the mud and the flag as you can get.  Again, wind and pin placement is a key here, and this shot is easier when the wind and pin cooperate with this angle into the green.  You can still get a driver, sometimes less, to the green from here with a well-positioned drive!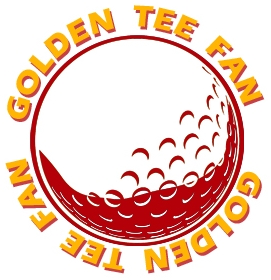 Golden Tee Fan is a Golden Tee addict from Chicago, IL, thirsty for tips and tricks!
Email this author | All posts by Golden Tee Fan