Grand Savannah — Hole #16: Par 5
By
Golden Tee Fan
• Category:
Grand Savannah
•
You will be tempted to pound your drive out into the grassy pothole dirt area straight ahead, but it's usually not necessary.  If you get as close to the end of the fairway as you can, you'll have anywhere from a driver to a 5-wood into the green without too much problem.  If you do have to approach with a driver, anticipate anything coming up short being slowed by the tall grass guarding the front of the green.  Ideally, you want to clear this grass and stick the green, but if you're coming in low and short, you'll need a bit more power to fight through that grass!
If you have a closer tee box and a headwind, don't be too scared of the pothole dirt area past the fairway — it's usually not bad.  Your best chance at reaching this par 5 in two may be to play a big A1 or C3 shot with roll and hope for at least one good bounce.  Yes, at times, you'll land right in one of those killer dirt areas and your ball will just die, but go for it!  If you can get just a ways out there before your ball stops, you'll be long enough to bring in your approach shot to the green without too much hassle.
Again, be careful of coming up short on your approach.  There's tall grass guarding the front of the green, and if you land there, you'll have to guess on the power of your chip shot.  I've also heard some people are getting "unplayable lie" penalties in this area! Out of tall grass, your ball seems to only go about 2/3 of your distance marker, so use that as a guide to apply anywhere on this course where you get in trouble!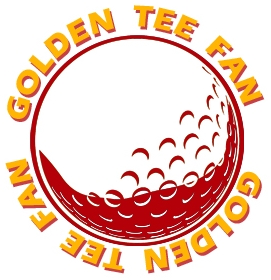 Golden Tee Fan is a Golden Tee addict from Chicago, IL, thirsty for tips and tricks!
Email this author | All posts by Golden Tee Fan