Grand Savannah — Hole #17: Par 3
By
Golden Tee Fan
• Category:
Grand Savannah
•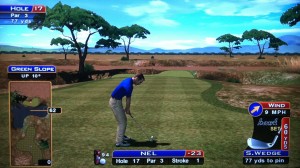 Death has a new face in Golden Tee 2009, and it comes in the form of a dinky little par 3 on Grand Savannah's 17th hole.  This is already being called the toughest hole ever created, and with good reason — most people can't escape without a bogey or much, much worse.  It's the ultimate round-killer.
So how do you attack this hole then?  Let's talk through each of the possible setups:
1) Wind at your back — congratulations!  You have a legit chance at birdie, especially if the pin is on the right (which is rare).  A strong wind blows a lofty club quite a ways, so pick a club and a shot that would normally end up short in the water and watch it carry up onto the green.  It's still crucial to LAND on the green, but with a tailwind, it should hold, giving you a birdie putt!  Don't use spin.
2) Side wind — awfully difficult, but you have a chance.  A wedge should still hold the green here, so it's just a matter of nailing the distance.  Remember that a side wind cuts distance quite a bit for loft clubs, so take a shot that would normally hit the hill in the back, and you might be okay!
3) Wind in your face — here's the round killer.  There aren't many options.  If you hit a wedge, a few things might happen, and they are all bad.  First, you could go over the hill, leaving you an impossible chip over the hill where the wind will push it right in the water.  Secondly, you end up on the side somewhere and still have to deal with a chip where the wind and slope push the ball into the water.  Third, and most likely, you'll land short of the top of the hill, where the ball will immediately be sucked into the water.
So what do you do in case 3?  Normally, you stroke limit.  But since you have nothing to lose, you try to learn a new shot.  Take something like a 5-iron and try this — pull it back about halfway, and shoot forward about half-strength with backspin.  The idea is to land on the front of the green and pray that the ball holds.  I have not accomplished this yet, but I'll let you know when I do.  This shot is so tough because you have to carry water AND not be long because of the hill in the back, which will shoot the ball back down the hill.
However, if you want to protect a good round, play for par using these steps.  First, club way up and aim for the grass/dirt behind the green on the right side.  Landing it here is step one.  Step two is making a small chip with backspin that lands on or just before this fat part of the green, where it will roll down a ways but not all the way to the water.  Step three is making your big-breaking putt!  Even if you two-putt for bogey here, you can bet you've done better than most guys playing the hole in this condition, and that should hold your rank in the competition!
Of all holes, this is probably the one where people would like to see YouTube holeouts the most.  But, because of the distance requirements in order to save a holeout on YouTube, no hole-in-ones on this hole will ever qualify! Still, our pal Skipper took a video of his hole-in-one on this hole to help us out — the quality is lacking, but it's the best we've got for now — thanks Skipper!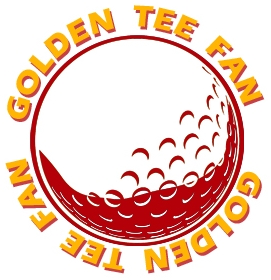 Golden Tee Fan is a Golden Tee addict from Chicago, IL, thirsty for tips and tricks!
Email this author | All posts by Golden Tee Fan