Grand Savannah — Hole #18: Par 4
By
Golden Tee Fan
• Category:
Grand Savannah
•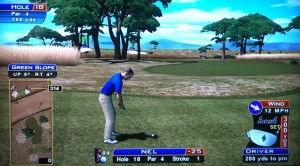 Did you escape 17 without killing your round completely?  No?  Keep at it — it's going to take a lot of practice.  You'll welcome anything after that, and hole 18 should be a birdie to finish your round on a positive note.
The ideal setup is one where you don't have to use driver off the tee.  The shot has to carry water into an elevated green, and normally a driver won't have enough loft to clear the river.  If you do have to use driver, try to be long rather than short!  Unfortunately, you're probably going to have to use roll off the tee, which does two things — first, it will prevent you from being wet because a C3 with roll will skip off the water and onto the green, but secondly, you're probably going to end up long since your ball will still be sailing along too fast!  Hey, at least you have a chip and a putt for birdie though!
In most cases, you can work a 3-wood backspin with a C3 around the trees.  Be careful on the green too, which is tough!  Eagle is very challenging, so make sure you get that birdie at worst!
EXAMPLE HOLE-OUT 1
FANTASTIC SHOT
ANOTHER INCREDIBLE SHOT
THANK GOODNESS FOR THE PIN!
CRAZY GOOD SPIN ON THIS ONE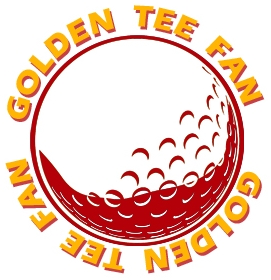 Golden Tee Fan is a Golden Tee addict from Chicago, IL, thirsty for tips and tricks!
Email this author | All posts by Golden Tee Fan